Yearly Roof Maintenance Program
Regular Moss Treatments, Debris Removal & Gutter Cleaning
Referred Roof Cleaning wants to do more than just clean your roof – we'd like to maintain it. You can rest assured that your roof and gutters will last a lifetime thanks to our roof maintenance program in Salem.
Our routine roof maintenance plan in Salem guarantees that any leaks will be detected before they happen, that your gutter drainage system will not clog, and that your roof will not be affected by moss growth. We don't require you to sign a contract for our roof maintenance program. Instead, we will check in with you every 6, 12, 18 or 24 month depending on what you need. We don't have contracts as we believe you will use our services again if you are satisfied with our work. Here's a list of all the items included in your roof maintenance plan:
1.  Roof Debris Removal
a.  Removing pine needles, branches, twigs, leaves, etc… from the roof surface

2. Gutter Cleaning
a. The inside of the gutters will be cleaned by hand or leaf blower depending on the situation.
b. Downspouts will be checked for water flow and cleared if plugged above ground
c. Underground plugs are not part of our service and may require a Roto-Rooter company.
d. If you have gutter guards installed, we will only be clearing debris off the top of those guards. We will not be un-installing or reinstalling guards unless specifically discussed with the client and considered in pricing.

3. Moss Treatment
a. Zinc Sulphate Mono-Hydrate powdered applications are used in wetter weather conditions or when rain is expected in near term weather forecasting and is applied to the ridge caps. Additional lines may be applied to the roof surface if needed, especially in moss prone areas. See attached document for reference.
b. Citrus Oils are used in a liquid form and are directly sprayed onto the roof surface when no rain is expected in near term weather forecasting. Citrus oils may also be used on very steep roofs where applying zinc by hand may be too dangerous.
4. Roof Inspection
a. Our roof maintenance company in Salem provides a yearly roof inspection to ensure that there are no immediate leak issues. In addition, we are looking for other services that may be needed like skylight cleaning or permanent harness installations. Some of these items are included in the maintenance cost, others need client approval and are extra. We are looking for the following items:
Torn pipe-jack rubber covers ($15 a piece, not included)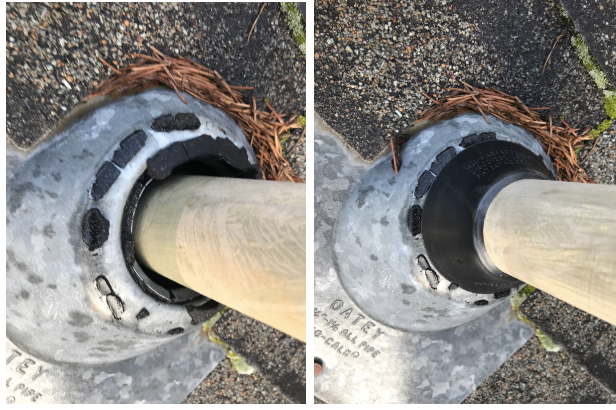 Nailing Loose flashing and caulking where needed (included)

Caulking Torn ridge caps or nailing back loose gutters (included)  

Pest intrusions needing blockers installed ($50 – $75 per blocker) 
Installing Permanent Harness Points: $50 each

Dirty Skylights ($5 per skylight)

 5. Clean up
a. With our clean up the intention is to clean up any mess we created
b. If we get windows, siding, decks, etc… muddy from the roof and gutter cleaning process on your Salem home, we will be rinsing off those areas.
c. We do not have the capacity to take large amounts of debris off premise. We ask to use the clients yard debris bins primarily. If excess debris still remains we can place it in a burn pile or bag up debris and place it next to the debris bin to be disposed of at a later time.